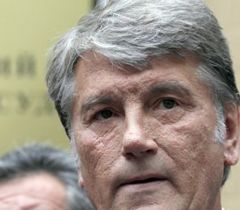 Our Ukraine party leader, President of Ukraine in 2005-2010 Victor Yushchenko underlined a special role of Poland in European integration intentions of Ukraine.
The press service of Our Ukraine party said to UNIAN that V. Yushchenko said this in his speech at the International Economic Forum in Krinitsa (Poland), where he is as a special guest.
"Poland for Ukraine is more than attorney. Poland is not just a strategic partner or promoter, Poland is a sincere friend.  It is much more valuable", noted V. Yushchenko.
At the same time he expressed a hope that position of Poland concerning European integration intentions of Ukraine has not changed. "Answering question of Polish journalists about what request I have to Poland I answer in such a way: I ask our friends Poles to support Ukraine because we are knocking at the door of Europe persistently. Ukrainians want to come back home, to the European community", said former President of Ukraine.