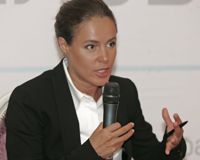 Macroeconomic indicators built into the draft State Budget – 2012 are not real and, obviously, have been written for the world community but for the Ukrainian people.
According to an UNIAN correspondent, head of the Parliamentary Committee on issues concerning industrial and regulatory policy, and entrepreneurship, lawmaker of Ukraine (the BYUT-Batkivshchyna faction) Natalia Korolevskaya said this to journalists.
"The offered budget  is not a budget of development, it is an outright window dressing for the world community. The only thing which one can do after having analyzed main macroeconomic indicators of the budget, is to hug our government and cry, as people say", said N. Korolevskaya.
"Macroeconomic indicators in the draft State Budget – 2012 are far from the Ukrainian reality.
Take inflation of 7.9% alone! Nobody doubts that at the end of the year the government will state about curbing of inflation and successful fulfillment of the budget. But it all will be on paper only but not on price tags in stores", said the lawmaker.