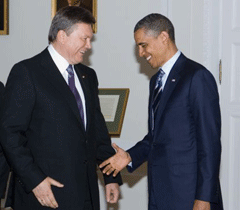 President of Ukraine Victor Yanukovych met with President of the United States Barack Obama. They discussed a preparation for the Nuclear Security Summit that will take place in Seoul in March, 2012.
According to the press service of the head of the state, their meeting took place during the measure of the high level within a framework of an initiative "Open Government Partnership".
V. Yanukovych also held brief meetings with United States Secretary of State Hillary Clinton and Prime Minister of Turkey Recep Tayyip Erdoğan.
Victor Yanukovych and Recep Tayyip Erdoğan discussed an issue concerning coming visit to Turkey and condition of the bilateral relations.
Moreover, the President of Ukraine held a brief meeting with President of Brazil Dilma Rousseff.