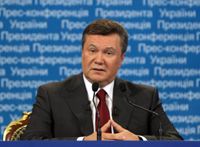 During his working visit to Russia on September 24, President Viktor Yanukovych intends to bring up pressing issues of Ukrainian-Russian bilateral relations, he told journalists in New York, while answering questions about whether he intends to discuss lower Russian gas price for Ukraine, or Ukraine's proposal to make the construction of a new gas pipeline cheaper, according to the Press office of President Viktor Yanukovych.
"We have a continuous dialogue with Russia. This will be our regular meeting – it will certainly be devoted to all these issues," Viktor Yanukovych said. "This work is challenging, but essential and we have got used to it by the way," he said.
According to the President, in question is the subject of Ukraine and Russia joining efforts to supplies energy resources to Europe, as well as the possibility of Ukraine getting some guarantees of oil and gas transportation through its territory. "And there is the eternal question – the price. How should we be building our future partnership. We are 'omened' to be seeking answers to these issues together," he said.
The President also noted that talks on the development, modernization or construction of new energy supply routes should be conducted with the participation of both these resources' owners (Russia, Caspian basin and Central Asia countries) and consumers in Europe. "It is another partner of ours, with whom we should be discussing that, given the great interest of Europe, Ukraine, and Russia in the stability of supplies," Viktor Yanukovych said.