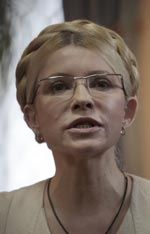 Ex Prime Minister of Ukraine Yulia Tymoshenko believes that the court sentence upon the criminal case concerning the gas agreements of 2009 indicates that Ukraine returned to times of mass repressions that were carried out in the 30ies of the 20th century.
According to an UNIAN correspondent, Yu. Tymoshenko said this after Judge of Pechersk District Court of Kyiv Rodion Kireyev had announced her sentence to imprisonment for a term of 7 years.
"1937 year came back to Ukraine with this sentence, with all repressions against citizens. Everybody has to be strong today", said Yu. Tymoshenko.