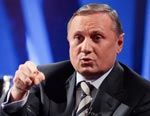 Leader of the Party of Regions faction Oleksandr Yefremov says that the parliament will not make any decisions under pressure from European countries.
According to an UNIAN correspondent, he said this during the press conference commenting on the refusal of representatives of majority to vote for decriminalization of the articles of the Criminal Code on which former Prime Minister of Ukraine Yulia Tymoshenko and former Interior Minister of Ukraine Yuriy Lutsenko are convicted.
"The pressure that comes on us from the side of Brussels and its leaders sometimes may not be acceptable. We can not break our laws…", said O. Yefremov.