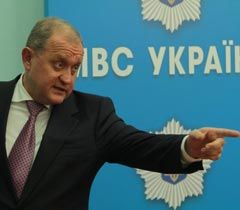 Interior Minister of Ukraine Anatoliy Mogilyov said that it is "ordinary practice" when employees of the Interior Security Department of the Ministry summon witnesses to the court on the case against former Interior Minister of Ukraine Yuriy Lutsenko.
According to an UNIAN correspondent, he said this at the press conference in Kyiv today.
"If our militia employees give a summons to someone or summon someone by telephone call, we expedite a process (court) in the interests of the participating sides…Moreover, I believe that there is a decision of the public prosecutor`s office. It is ordinary practice that the militia employees deliver summonses", said A. Mogilyov.
According to his words, in most cases of consideration of the criminal cases militia employees deliver summonses and in some cases they also deliver witnesses.