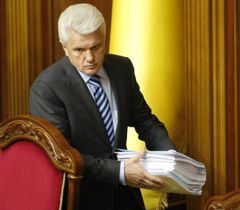 The Verkhovna Rada of Ukraine is about to consider the draft law on decriminalization of a range of articles of the Criminal Code on Friday, on November 4.
According to an UNIAN correspondent, Speaker of the Verkhovna Rada of Ukraine Volodymyr Lytvyn said this after opening of the plenary sitting summarizing the results of the Conciliatory council.
"We made arrangements to advise the Verkhovna Rada of Ukraine to consider this issue on Friday, after an Hour of questions to the government", said V. Lytvyn.
According to his words, the consultations of the leaders of the factions concerning this draft law will be carried out before this.
After that members of the BYUT-Batkivshchyna faction unblocked the work of the Verkhovna Rada of Ukraine and took their working places.