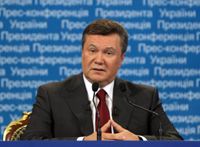 President of Ukraine Victor Yanukovych highly estimates the European support of reformative course of our state.
"I want to thank our European colleagues for support of transformations in Ukraine. An experience of the member-states of the Council of Europe is inestimable for countries that aspire to develop their societies on principles of universal values", he said during the international municipal hearings that take place in Kyiv today, the press service of the President of Ukraine disclosed to UNIAN.
He reminded that Ukraine will delegate a chairmanship in the Committee of Ministers of the Council of Europe to Great Britain on November 7.