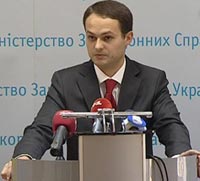 The Foreign Ministry of Ukraine does not mention a concrete date of a visit of President of Ukraine Victor Yanukovych to Brussels.
According to an UNIAN correspondent, head of the press service of the Foreign Ministry of Ukraine Oleksandr Dikusarov said this at the press conference.
"We do not mention the terms. Negotiations are under way and we are about to finish this negotiation process till the end of this year; the dates of visits of the Ukrainian high officials to Brussels will depend of the process of the negotiations", - he said.