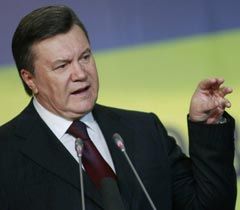 President of Ukraine Victor Yanukovych says that the benefits for Chernobyl cleanup veterans will not be reduced; on the contrary, these benefits will be increased by 25% the next year.
According to an UNIAN correspondent, the head of the Ukrainian state said this at the broadened sitting of the Cabinet of Ministers.
V. Yanukovych rebuked officials and Prime Minister of Ukraine Mykola Azarov for not telling truth to people concerning real policy on social protection of citizens.
At the same time he called to tell people that the benefits will not be reduced, it will be improved in order to raise the protection of people. "It is our policy", - said V. Yanukovych.