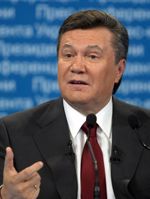 President of Ukraine Victor Yanukovych believes that an executive power in Ukraine turned out not  to be ready enough for carrying out reforms in the country.
According to an UNIAN correspondent, he said this at the broadened sitting of the Cabinet of Ministers of Ukraine.
"Analysis of the plan of implementation of reforms indicates that as of today only a half of measures have been fulfilled. Not all priorities of the national plan marked by me were realized", said V. Yanukovych.
He noted that from the time of realization of the Economic Reforms Program only 39 out of 79 necessary draft laws were submitted to the Verkhovna Rada.
"Dear colleagues, it is even beneath criticism", said V. Yanukovych.