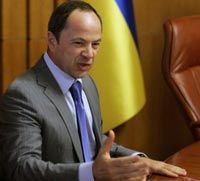 Vice Prime Minister of Ukraine Serhiy Tigipko promised that the benefits for Chernobyl cleanup veterans will be restored completely.
According to an UNIAN correspondent, one of the leaders of Chernobyl organizations telling about preliminary results of the negotiations of Chernobyl cleanup veterans with the government said this during the protest action near the Cabinet of Ministers of Ukraine.
According to his words, as of now the main question is whether Chernobyl cleanup veterans receive their pension on a full scale. He said that now the working group, which consists of representatives of Chernobyl cleanup veterans and the government, are considering the draft document that stipulates that all social payments to Chernobyl cleanup veterans will be carried out on a full scale from November 4.
He also noted that they reached an agreement that the documents on reduction of the benefits for Chernobyl cleanup veterans signed by S. Tigipko will be recalled.