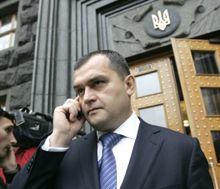 President of Ukraine Victor Yanukovych will introduce newly appointed Interior Minister Vitaliy Zakharchenko to staff of the Interior Ministry.
According to the press service of the head of the state, V. Yanukovych will pay a working visit to the Chernovtsy Oblast today.
During the visit he will get acquaint himself with a work of "Chernovtsy mashzavod" and will hold a meeting in a broadened staff with participation of the members of the government.