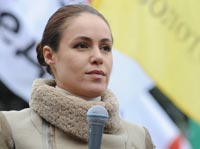 Natalia Korolevskaya calls upon to celebrate Day of Freedom near Lukyanivske pre-trial prison, where former Prime Minister of Ukraine Yulia Tymoshenko is under arrest. Lawmaker (the BYUT-Batkivshchyna faction), head of the Committee on Industrial and Regulatory Policy Issues and Entrepreneurship said this during a sitting of a media-club for regional journalists.
The press service of the lawmaker disclosed to UNIAN that N. Korolevskaya noted that "on November 22 Ukraine celebrates Day of Freedom. In 2004 we fought sincerely in order to live in a free country. The country has changed out of all recognition for the recent seven years: the power tries to call our principles in question with all its strength".
According to her persuasion, Maydan is a symbol of struggle of Ukrainians for freedom.
"Today Maydan is a square near Lukyanivske pre-trial prison, where Yu. Tymoshenko is under arrest. That is why on Day of Freedom all those, for whom this day has a meaning, will gather there", noted N. Korolevskaya.