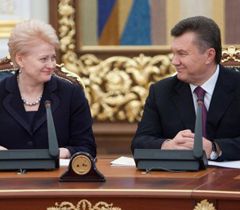 A success of the summit Ukraine-EU that will take place in December will directly depend on solving a situation with former Prime Minister of Ukraine Yulia Tymoshenko in Ukraine.
According to an UNIAN correspondent, President of Lithuania Dalia Grybauskaitė said this at the joint news conference with President of Ukraine Victor Yanukovych in Kyiv today.
D. Grybauskaitė underlined that Europe was shocked by the decisions that were made during the trial of leader of the opposition Yulia Tymoshenko.
"There was a predominant view in Europe that Yu. Tymoshenko and her colleagues became a victims of political neutralization process", said the President of Lithuania.
At the same time D. Grybauskaitė said that now she speaks on behalf of the EU. "This is a speech and news that I was asked and authorized to bring to you on the behalf of the European Union".
D. Grybauskaitė underlined that Europe believes that Ukraine has not found yet a solution of political problems, particularly concerning adoption of the amendments to the Criminal Code. That is why Europe asks Ukraine to ensure a fair consideration of appelate suits concerning the case of Yu. Tymoshenko, she said.