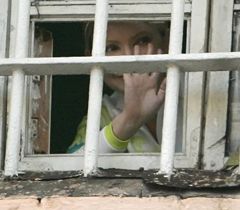 The defense and relatives of ex Prime Minister of Ukraine Yulia Tymoshenko do not have official information when and how the medical examination of the state of health of Yulia Tymoshenko was carried out.
Defender of Yu. Tymoshenko Serhiy Vlasenko disclosed this to an UNIAN correspondent today.
The defender reminded that yesterday he and lawmaker Serhiy Sas asked the leadership of the pre-trial prison to solve an issue concerning medical examination of Yu. Tymoshenko.
"As of yesterday the leadership of the pre-trial prison did not plan to take Yu. Tymoshenko out for medical examination, and this issue was at the stage of solution, but it so happened that they lied to us",- he said. 
According to the words of the defender, in accordance with unofficial information that he has, Yulia Tymoshenko was taken out of the pre-trial prison  at 7.15 am -7.30am today and at 10.00 am she was delivered back. "It means that she was awoken at 5.00 am. It is impossible to understand why it is necessary to examine a person, who has not got out of bed for more than two weeks, in this way", - said S. Vlasenko.
According to his information, Yu. Tymoshenko was examined in Oblast hospital. "It is impossible to understand, why to do this secretly. However,  it is good that she was examined at last after three months",- he said.