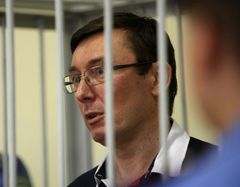 Ex Interior Minister of Ukraine Yuri Lutsenko say that he does not consider himself guilty and does not see any reasons in order to repent.
According to an UNIAN correspondent, he said this today after an end of his speech in debate during the court hearing in Pechersk District Court of Kyiv that considers his case.
"I do not need a compassion, I will survive anyway, no matter how many years they will give me I do not consider myself guilty and I have nothing to repent of", - he said.