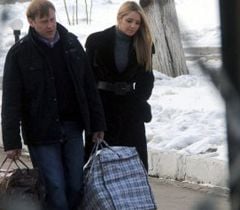 The meeting of ex Prime Minister of Ukraine Yulia Tymoshenko with her daughter in Kachanivska prison colony in Kharkiv came to an end. The meeting lasted from March 9 to March 11.
The Department of the State Penitentiary Service of Ukraine in the Kharkiv Oblast confirmed this information to UNIAN.
The daughter of the former Prime Minister of Ukraine Yevgenia Tymoshenko left the territory of the colony at 10.00 am today.
They also confirmed that the mother of Yu. Tymoshenko did not take part in the meeting.