Foreign Minister of Ukraine is surprised at statement of Marietta de Pourbaix-Lundin, the PACE co-rapporteur on Ukraine concerning possibility of non-fulfillment of recommendations of the PACE.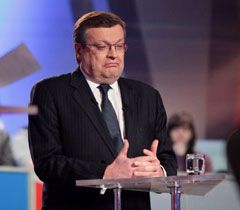 He wrote this on his page in Twitter social network.
"I am surprised at words of Marietta de Pourbaix-Lundin. For many years in diplomacy I have discussed many different difficult topics with different people but for the first time I am ascribed the words I did not say", said the Minister.
K. Hryshchenko noted that in 2011 it is under his guidance the Foreign Ministry of Ukraine elaborated an Action Plan of the Council of Europe for Ukraine that should promote fulfillment of obligations of Ukraine before the organization. The Minister noted that this Action Plan was approved by the Council of Europe.