Former Ecology Minister of Ukraine Georgiy Philipchuk, who worked in the government of Yulia Tymoshenko, was sentenced to three years in jail for an abuse of powers.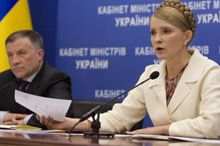 Yulia Tymoshenko and Georgiy Philipchuk
Judge of Solomenskyi District Court of Kyiv Volodymyr Melnyk made the corresponding decision on Thursday, according to RIA Novosti.
"The court recognized Georgiy Philipchuk's guilt in accordance with the third part of article 365 of the Criminal Code of Ukraine having sentenced him to 3 years in jail…He was taken into custody in the courtroom and sent to detention centre", - said lawyer of the former Minister Mykola Shupenya.
He explained that G. Philipchuk was convicted for abuse of powers and administrative duties while concluding an agreement with Astapov Lawyers juridical company; an agreement stipulated to give to Ecology Ministry consultations during consideration of a dispute in international juridical institutions concerning termination of an agreement concluded between the government of Ukraine and Vanco International ltd company on developing of Black Sea shelf.
The lawyer noted that they will appeal against the court`s decision, because he believes that the court decision is an "absurd".
M. Shupenya noted that Georgiy Philipchuk was fulfilling instructions of the Cabinet of Ministers, in particular, ex Prime Minister Yulia Tymoshenko.