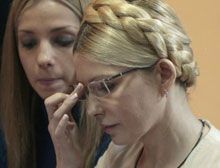 Yulia Tymoshenko
Ex Prime Minister of Ukraine Yulia Tymoshenko, who is imprisoned in Kachanivska prison colony, refuses from the special conditions created specially for her in the hospital of Ukrzaliznytsia in Kharkiv.
According to an UNIAN correspondent, daughter of ex Prime Minister of Ukraine Yevgenia Tymoshenko read the corresponding statement of Yulia Tymoshenko before Kachanivska prison colony to journalists.
Yu. Tymoshenko noted that creation of exclusive conditions for her has a propagandistic character.
Ex Prime Minister of Ukraine underlined that she demands to fulfill recommendations of foreign physicians and the decision of the European Court on Human Rights on general basis.