Eugenia Tymoshenko meets with German human rights commissioner
Eugenia Tymoshenko, daughter of imprisoned former Prime Minister Yulia Tymoshenko, met today with German Government Commissioner for Human Rights Markus Loning, according to the Official web site of Yulia Tymoshenko.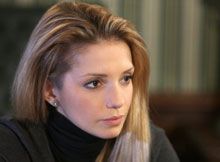 Eugenia Tymoshenko
During the meeting, also attended by Yulia Tymoshenko's lawyer Serhiy Vlasenko and relatives of other political prisoners in Ukraine – former Interior Minister Yuriy Lutsenko, former acting Defense Minister Valeriy Ivashchenko and others, they discussed the persecution of the opposition by Yanukovych's regime, human rights violations and backsliding of democratic in Ukraine.
"My mother was unlawfully sentenced, she is not being given proper medical care, her rights are being violated, and absurd charges are being brought against her only because she is Yanukovych's main opponent," Eugenia Tymoshenko stressed.
In his turn, Markus Loning expressed outrage over the human rights violations and persecution of the opposition in Ukraine and stressed that he will share all the information he obtained during his visit to Ukraine with German Chancellor Angela Merkel.
If you see a spelling error on our site, select it and press Ctrl+Enter