Klitschko looks for answers on questions in Georgia
Mikheil Saakashvili notes that real mental revolution took place during the recent two years in Georgia because in consciousness of people an attitude towards many habitual things have changed, in particular towards corruption, red tape and others.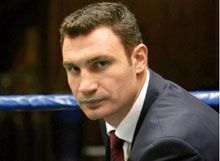 Vitaliy Klitschko
President of Georgia Mikheil Saakashvili said this in Batumi on April 19 during the meeting with a delegation of "UDAR" party headed by Vitaliy Klitschko, who stays on visit in Georgia in order to acquaint himself with experience of reforms and ways of their implementation.
The press service of UDAR party disclosed to UNIAN that V. Klitschko noted: "We need an action plan, we need guideline. We want to know about experience – how the things we see now were implemented. We want to find answers for many questions".
If you see a spelling error on our site, select it and press Ctrl+Enter