Court refuses to close case against Lutsenko and sets date of session
The court refused to lawyers to close the case against Y. Lutsenko and set the consideration of the case for May 18.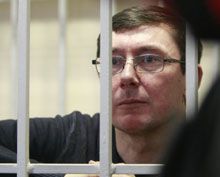 Yuriy Lutsenko
Pechersk District Court refused application to lawyer Oleksiy Baganets concerning closing the criminal case against Yuriy Lutsenko who is accused in illegal continuation of investigation and search case towards driver of former first deputy chairman of the SBU Volodymyr Satsuk Valentyn Davidenko. The court set consideration of the case for May 18.
According to an UNIAN correspondent, chair judge in the court process Hanna Medushevskaya announced the corresponding decision today.
It is noted in the decision that in accordance with norms of current legislation the court of first instance should research materials of the case, study evidences, interrogate witnesses at judicial investigation; in this way an application on closing of the criminal case is preliminary and is not appealable.
It is also noted in the decision that due to busyness of judges, the break in court is announced till 8.30 am, on May 18.
If you see a spelling error on our site, select it and press Ctrl+Enter