Captain of national team of Germany calls upon Platini to estimate situation in Ukraine
Captain of the national football team of Germany Philip Lam called upon UEFA President Michel Platini to express clearly his point of view concerning situation in Ukraine.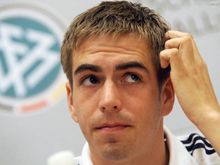 Philip Lam waits for clear stand from Platini
He said this to Der Spiegel edition, Polish mass media report.
"The situation in Ukraine and attitude towards Yulia Tymoshenko have little to do with my views in areas of democracy, human rights, personal freedom and freedom of speech", - said the football player.
The captain of the national team, which will play all matches of the group phase of Euro-2012 in Ukraine (including the first two matches in Kharkiv), said that M. Platini should take clear stand concerning this issue.
According to his words, he "would think seriously" before stretching out his hand to President of Ukraine Victor Yanukovych if he visited some match.
If you see a spelling error on our site, select it and press Ctrl+Enter