Today ex Interior Minister of Ukraine Yuriy Lutsenko has been delivered to the building of Appelate Court of Kyiv, which will start a preliminary consideration of his appeal and his lawyers' appeal on sentence, according to which ex Interior Minister was sentenced to 4 years of imprisonment by Pechersk District Court of Kyiv.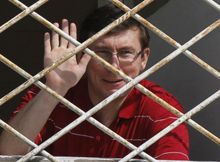 Yuriy Lutsenko
According to an UNIAN correspondent, the court hearing was scheduled for today [10.00 am], but it started 10 minutes late.
Journalists were not admitted to courtroom – they stay in a conference hall, where a video broadcast is shown on a screen.