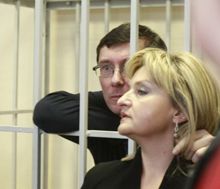 Iryna Lutsenko asked the court ещ interrogate employees of penitentiary
The defense of Yuri Lutsenko asks Appelate court to summon and interrogate Leonid Kravchuk, Yulia Tymoshenko and Victor Pinzenyk, and also to carry out a medicolegal investigation concerning state of health of ex Interior Minister.
According to an UNIAN correspondent, lawyer of ex Interior Minister of Ukraine Ihor Balyk addressed with such petitions to chair judges in court hearing today.
In her turn wife of Yuriy Lutsenko Iryna Lutsenko, who is a public defender in the court hearing, asked the court "to invite employees of penitentiary service and interrogate them concerning presenting a medical treatment to my husband".