Lawmaker of the European Parliament Mark Sivets (Poland) believes that cancellation of Yalta Summit of the Central European Initiative is a warning for Ukraine on the eve of possible diplomatic isolation.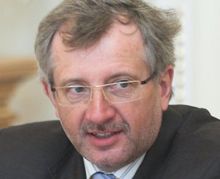 Mark Sivets says that it is affront already
He expressed this opinion to an own UNIAN correspondent in Brussels.
"Cancellation of summit in Yalta is bad news for Ukraine and its authorities. It is a warning before a diplomatic isolation, which may take place. It is not a boycott, but it is affront already, said the lawmaker.