Kuzmin names Lutsenko as "conditional oppositionist"
Renat Kuzmin reminded Y. Lutsenko in whose government he was a minister.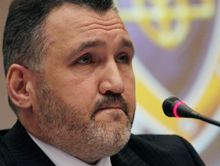 Renat Kuzmin
First deputy Prosecutor General of Ukraine Renat Kuzmin believes that former Interior Minister of Ukraine Yuriy Lutsenko is a conditional member of opposition.
According to an own UNIAN correspondent in Brussels, R. Kuzmin said this on Wednesday in Brussels delivering a speech at the session of "round table" on topic: "Trial of Yulia Tymoshenko – fulfillment of the Ukrainian legislation or violation of human rights".
"Yuriy Lutsenko, Interior Minister, is a conditional member of opposition. He worked in the government of Victor Yanukovych, when V. Yanukovych was the Prime Minister. V. Yanukovych appointed Y. Lutsenko minister twice. Is he member of opposition? Or not?", - asked R. Kuzmin.
If you see a spelling error on our site, select it and press Ctrl+Enter