BYUT-Batkivshchyna faction demands to stop video filming in a ward, where Yulia Tymoshenko undergoes a medical treatment and to file a suit against officials who publicized her daily routine.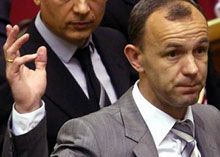 A. Kozhemyakin announced demands
According to an UNIAN correspondent, leader of the BYUT-Batkivshchyna faction Andriy Kozhemyakin said this from the rostrum of the Verkhovna Rada.
"We demand to stop immoral and illegal video filming in a ward, where medical treatment and procedure are held", - he said.
Moreover, according to the words of A. Kozhemyakin, opposition demands to stop illegal watch of men-officers in the ward of Yu. Tymoshenko.
Moreover, he noted that opposition demand to investigate a fact of pressure on representatives of Charité German clinic and to stop political repressions ect.
"Today the faction of Yulia Tymoshenko Bloc made decision not to take part in this sitting (of the parliament) because we do not want to be an extras in this hall", - said A. Kozhemyakin.
Having announced this statement lawmakers of the BYUT-Batkivshchyna faction unblocked a work of the Verkhovna Rada and left the session hall.