Head of the Polish Government Donald Tusk called upon Federal Chancellor Angela Merkel to "bear nervously" situation in Ukraine and jointly with Poland to act for integration of Ukrainians to the European Union.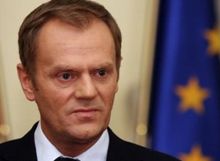 Polish Government Donald Tusk
The press service of the Polish government disclosed to UNIAN that he said this in Berlin yesterday during presenting to him an award of Walther Rathenau for merits in deepening of European integration during the first in the history chairmanship of Poland in the EU in the second half of 2011.
"We should bear nervously the situation in Ukraine. Not only in a context of Euro-2012", - said D. Tusk, having noted that he believes in joint and consecutive actions of Poland and Germany towards Ukraine and also that it is necessary "to struggle sequentially for observance of human rights".