About 100 journalists gather near residence of Yanukovych "Mezhyhirya"
About 100 mass media representatives gathered near residence of President of Ukraine Victor Yanukovych "Mezhyhirya"."Ukrainska Pravda" reports this.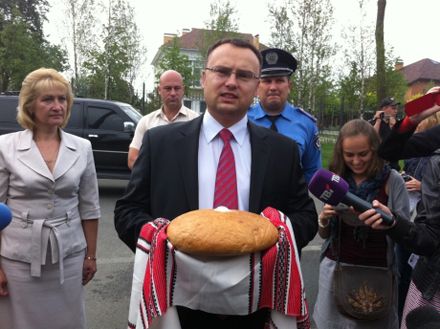 Starenkyi initiated ban on carrying out of action of journalists, photo by Ukrainska Pravda
It is noted that the day before Kyiv circuit administrative court prohibited to carry out actions near "Mezhyhirya" , that is why journalists came to control fulfillment of the court's decision.
About 20 employees of the State Guard Department and Berkut special subdivision gathered near entrance to  "Mezhyhirya"   residence. They blocked an aisle to "Mezhyhirya"   residence.
At the same time country chairman of Novi Petrovtsy Rodion Starenkyi, who demanded a court ban on an action the day before, welcomed mass media representatives.
R. Starenkyi said that he initiated a ban on action because of requests of village inhabitants; however he could not show these requests.
If you see a spelling error on our site, select it and press Ctrl+Enter