Tymoshenko poured with paint (photos)
Around 6-7 a.m. today...
This early morning unknown people poured paint over the portrait of Yulia Tymoshenko and banners, hanging at the BYuT headquarters in Kremenchuh city of the Poltava Oblast.
According to Kremenchuh BYuT HQ chief Oleh Babayev, the huge portrait of Yulia Tymoshenko and banners with the Bloc's slogans were poured with paint at around 6 or 7 a.m. on Tuesday. "These are dirty election technologies. I guess it was done by our opponents from the Party of Regions on the eve the visit of their leader. Unfortunately, these vandals were not cought. I'm confident that their party leader would not praise his adherents", O.Babayev claimed.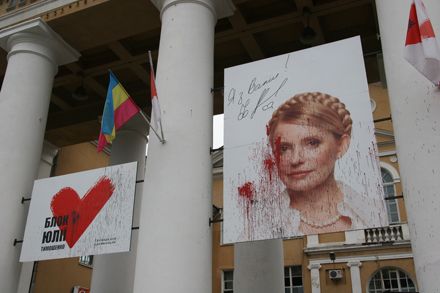 Kremenchuh Party of Regions HQ chief Mykola Chernykh claimed to UNIAN that his headquarters is not connected with the incident. "We wage our election campaign fairly. We stretch our hand to everybody and do not play any dirty games. The decision, for who to vote, is up to the elector. There were provocations against us as well. Yesterday somebody set fire on our car. Fortunately, we managed to extinguish the fire. I did not tell our opponents about that and I do not blame them for that. The police will investigate everything", M.Chernysh claimed.
Photos by Oleh Bulashev
If you see a spelling error on our site, select it and press Ctrl+Enter