Kyivskyi District Court of Kharkiv continues consideration of the case against ex Prime Minister of Ukraine Yulia Tymoshenko concerning violations in activity of UESU corporation.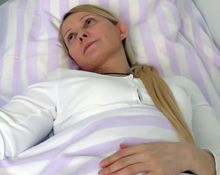 Tymoshenko stays in hospital
According to an UNIAN correspondent, chair judges Konstyantyn Sadovskyi announced start of the court session.
Some representatives of the European Parliament, including Pat Cox and Aleksander Kwaśniewski, are present in the court room.
Yu. Tymoshenko was not delivered to the court because she is ill.