Undoubtedly  Victor Yanukovych  will sign a law on language policy, scandalously adopted at the sitting of the Verkhovna Rada yesterday.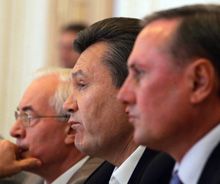 Action of President and parliament concerted
Leader of the Party of Regions faction Oleksandr Yefremov said this, according to Kommersant-Ukraine.
"If the parliament votes for this draft law I do not see any argument of administration of president not to sign it", - said O. Yefremov.
A source in Administration of President expressed the same opinion: "The law will be undoubtedly signed".