Prime Minister of Ukraine Mykola Azarov is sure that further fate of Agreement on Association of Ukraine and the European Union, including creation of free trade area, is in hands of the European Union at current stage.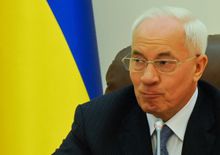 According to an UNIAN correspondent, he said this at press conference after opening ceremony of Stalteh company metal constructions plant in Brovary of the Kyiv Oblast.
According to the words of M. Azarov, the text of agreement is initialed and practically is ready for signing.