European Commissioner for Enlargement and European Neighbourhood Policy Štefan Füle called Ukraine to fair elections and solving problem of politically motivated persecutions.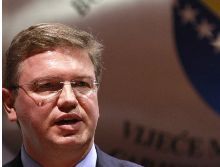 Štefan Füle
Representative of the press office of the EU Commissioner disclosed to an own UNIAN correspondent in Brussels that he said this during the meeting with First Vice Prime Minister of Ukraine Valeriy Khoroshkovskyi.
"He repeated that Ukraine should apply every effort in order to allay apprehensions concerning politically motivated trials, turning to this issue as to a part of more wider reform of judicial system. October parliamentary elections should be prepared and carried out in accordance with international standards, including respect to freedom of mass media, equal access to mass media and freedom of gathering", spokesman for the EU European Commissioner Peter Sano said this to UNIAN.
According to his words, the EU Commissioner also expressed disappointment about signing by the President of Ukraine amendments into the law on functioning of the prosecutor's office, which were not discussed with Venice Commission. Štefan Füle noted that it became a lost opportunity to reform the prosecutor's office in accordance with the European standards.
During the meeting the EU Commissioner also expressed concern about draft law on renewal of criminal responsibility for slander.
Moreover, during the meeting the sides exchanged opinions concerning priority of reforms and they also discussed concrete steps, which are necessary for improvement of business-climate in Ukraine and plans of Ukraine concerning strengthen of system of management of state finance .
"It was a good opportunity to estimate a state of affairs in relations of the EU-Ukraine in a whole and in separate sector areas in particular…I sincerely hope that Ukraine will demonstrate its adherence to the European values and reforms, having allowed us to develop our relations in future, to sign, ratify and fulfill agreement on association. Carrying out of the next parliamentary elections, correction of consequences of selective justice and further steps in reforming of the judicial system, and general progress in implementation of Agenda of Association are very important for this", - the representatives cited the EU Commissioner.