CVU see that voters are afraid to report officially about violations
Citizens are afraid to reports officially about violations in electoral legislation, it causes  inaction of law-enforcement bodies.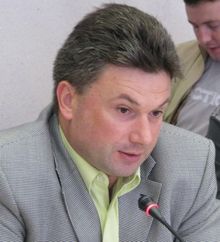 Teslenko says that Ukrainians are afraid
Deputy chairman of the Committee of Voters of Ukraine Vitaliy Teslenko said this on the air of 5 Kanal.
"When we speak about numerous signals and violations we forget about the fact that people should not only signal that they are forced to do something but they should write an application to the law-enforcement bodies. There are only few people. It is necessary to address personally. We have a hot line, people call there, say about things where they believe are violations of the electoral campaign. And when we ask something, which can be interesting to he law-enforcement bodies of Ukraine, they answer – tell them by yourself. We ask them to tell their surnames, we offer to write an application, we say that we will inform about that – 99% of people just refuse to talk about things that they will appear in some applications concerning these violations", - said V. Teslenko.
If you see a spelling error on our site, select it and press Ctrl+Enter