According to the words of Oleksiy Poroshenko it was no his decision.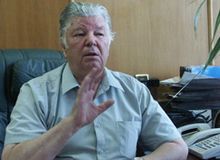 Oleksiy Poroshenko
"I fell ill that day. I had a high temperature – 39.3. I went to hospital. Petro (Petro Poroshenko – UNIAN) called and offered: "Father, let's not risk your health". I gave my consent. The son said this immediately at Popular Assembly. But now I feel very good. I would be ready to continue pre-election struggle. I don't know whether procedure of renewal to candidate is possible. I should probably consult a lawyer", - he said to Gazeta.ua.
Oleksiy Ivanovych stays in "Morshin" sanatorium now.
Oleksiy Poroshenko also refutes arrangements with Kaletnik family. As Oleksiy Ivanovych was single real rival for Oksana Kaletnik, niece of lawmaker and chancellor of Vinnytsa Agrarian University Hrygoriy Kalentik and cousin of head of the State Customs Service Ihor Kalentik.
"I have really big support in district. Particularly in Chechenitskyi and Peschanyi districts. Even now I could drink a fizz and celebrate a victory. What for should I arrange with somebody? But Oksana gave money to voters impudently. Firstly by UAH 50 then by UAH 500. They say they even concluded agreements. That those who take money are under an obligation to vote for UAH 500. I did not receive money from anyone. I am well-to-do person and I don't need that. Thanks God I work well", - said O. Poroshenko.
As it was reported earlier, on September 20 at Popular Assembly in Peschanka district center of the Vinnytsa Oblast Economic Development and Trade Minister of Ukraine Petro Poroshenko announced that his father withdraws his candidacy from the elections to the Verkhovna Rada of Ukraine on the 16th district due to state of health. Consequently, Oksana Kalentik now has not real rivals on a way to the Verkhovna Rada of Ukraine.