Merkel met with Ukrainian opposition (photo)
Chancellor of Germany Angela Merkel  expressed her solidarity with democratic opposition of Ukraine and stated about support to ex Prime Minister of Ukraine Yulia Tymoshenko.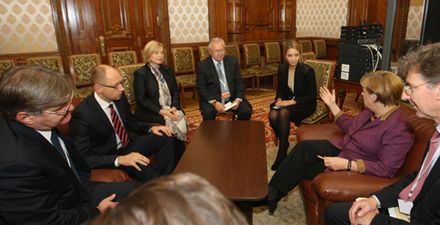 At the meeting a process of electoral campaign was discussed. Photo - http://byut.com.ua/
The press service of the Front of Changes disclosed to UNIAN that it was said during the meeting of Federal Chancellor of Germany A. Merkel with leaders of the Batkivshchyna United Opposition Arseniy Yatsenyuk, Hrygoriy Nemyrya and Borys Tarasyuk, representative of UDAR party Iryna Gerashchenko.
The sides underlined the necessary terms of approaching of Ukraine to the European Union is carrying out of the parliamentary election, which meet the standards of the OSCE and the Council of Europe, implementation of real judicial reform, which would base on a respect to a principle of supremacy of law. Moreover, it is unconditional release of political prisoners, in particular, Yu. Tymoshenko and ex Interior Minister of Ukraine Yuriy Lutsenko.
At the meeting they also discussed electoral campaign process and issues, which arouse anxiety of international observers.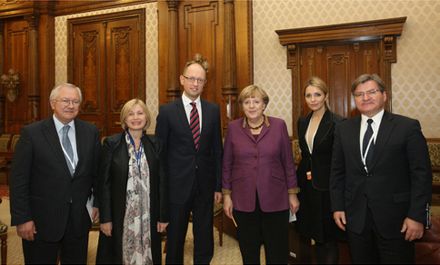 Moreover, daughter of Yu. Tymoshenko Yevgenia Tymoshenko passed to Angela Merkel a personal message from her mother and thanked for the support, which the government of Germany and German physicians give to her mother. "Physicians of Charité clinic saved the life of my mother", said Y. Tymoshenko.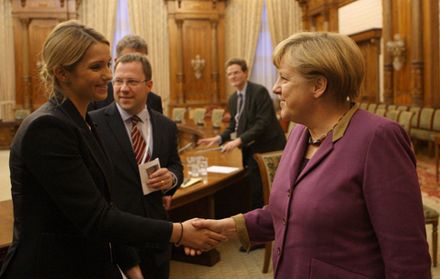 A. Merkel said that she supports Yu. Tymoshenko and she is ready to help her in future.
If you see a spelling error on our site, select it and press Ctrl+Enter