Ex Prime Minister of Ukraine Yulia Tymoshenko believes that the goal of her hunger strike was achieved – the Verkhovna Rada is not taken as legitimate and democratically elected.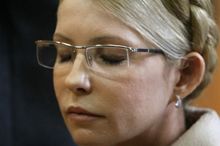 Tymoshenko believes that the goal of hunger strike is achieved
According to an UNIAN correspondent, daughter of ex Prime Minister of Ukraine Yevgenia Tymoshenko publicized this statement of Yu. Tymoshenko at press conference in Kharkiv.
'Today, on November 16, 2012 it is a fact that every citizen of Ukraine knows firmly that these parliamentary elections were completely forged", - it is said in the statement.
Yu. Tymoshenko notes that international organizations, which observed the elections, "have already recognized that the parliamentary elections in Ukraine in 2012 do not meet the democratic standards and are considerable step backwards compared with the recent parliamentary elections in 2006, 2007".
'I see that the goal, for which I had gone on hunger strike, was achieved.  Nobody can take this Verkhovna Rada as legitimate and democratically elected. That is why I believe that on the 18th day of the hunger strike it is possible to stop hunger strike and to continue struggle against corrupt regime of V. Yanukovych by other means", - noted Yu. Tymoshenko.