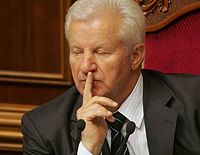 The Socialist Party of Ukraine is not going to unite with other parties of the social – democratic direction. Leader of the party Oleksandr Moroz said this.
According to the press service of the Socialist Party, O. Moroz noted that "information on uniting of the SPU with other parties of the social-democratic direction – is inventions".
He added, that  "this issue has not been discussed in the party. I see no reasons for this".
O. Moroz said that the session of the political council of the SPU will take place on Saturday, where it will be taken a decision concerning the convocation of the convention. He thinks that the convention will likely to take place in the middle of November. He notes that during the convention they will speak about the results of the early election to the Verkhovna Rada of Ukraine.
According to his words, "in the conditions of man-made legal chaos the party could not overcome the contraction of administration resource, which was directed against it". "This is a defeat at the current level of struggle, but everything is ahead", noted O. Moroz. He thanked "hundred thousands of our adherents". "They will not be disappointed. They will begin to see clearly soon and defrauded by power and well-known political adventurers", said the SPU leader.