Volodymyr Lytvyn said who is most likeable for him
Volodymyr Lytvyn confessed who is most likeable for him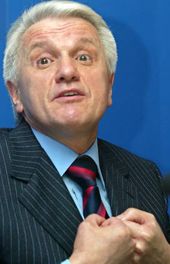 Volodymyr Lytvyn, leader of the Lytvyn's Bloc thinks that it is necessary to start creating the parliamentary majority only after election of speaker and assures that he does not intend "to enter on conditions" in any coalition. He said this in the interview to Korrespondent magazine.
"If somebody wants the wide coalition it is necessary to define the rules of the game together. And if somebody thinks that he is big enough and they will come to him to give up, he is mistaken", said Lytvyn.
Politician confessed that "everybody who have a desire" carry out the consultations now. "I do not speak with "not high level" and do not impose myself on relatives to anybody. I communicate both with Tymoshenko and the Prime Minister and the President", said the Lytvyn's Bloc leader.
At the same time, Lytvyn is sure that the President has primarily to propose to the party, which received more votes to create the government. "And if the Party of Regions does not find the support in the parliament, let other political forces try to do it", advise ex-speaker.
Lytvyn thinks that the parliament of the 6th convocation may work without coalition and estimates its creation as "50/50". " My confidence is based on understanding that everybody act with rear sight on the presidential election", explains the politician.
At the end Lytvyn confessed that his bloc is the most attractive for him among other political forces and assured that as for today he has not signed any document about creating the majority in the parliament of the 6th convocation.
If you see a spelling error on our site, select it and press Ctrl+Enter