Yushchenko see three ways
Yushchenko see three ways: merger, joining or self-destruction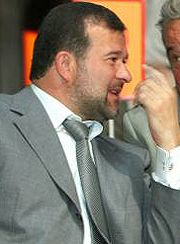 Victor Baloha
Leader of the Secretariat of the President Victor Baloha calls upon the democratic forces not to be slow in creating the united party on the basis of the Our Ukraine – People's Self Defence Bloc.
It is said in the comments of V. Baloha, passed to UNIAN by the press service of the President of Ukraine.
He reminded that during the campaigning of the snap parliamentary election 9 parties from the "orange" camp said about readiness to unite in strong political organization, which will propose to the society a new ideology, clear goals and understandable valuable guidelines.
"The corresponding declaration, which fixed the joint intentions, was publicized. So this document became the pre-election obligation of created Our Ukraine – People's Self Defence Bloc and its adherences understood clearly the united idea. It is impossible to separate the election campaign of the OU-PSD from the declared movement to creating the new party, which has to provide in Ukraine European, economic and political standards", said V. Baloha.
He noted that President Victor Yushchenko said several times about the consolidation of the democratic forces, which became more and more separate because of the range of reasons.
"Let's remember: call for joint actions, about which the head of the state said in Autumn last year at the convention of the Our Ukraine People's Union, the delegates and guests meet this call with ovation. Moreover, the President supported the OU-PSD Bloc in the context of the united direction. Solidity of the democratic camp is a pledge that there will be no revanche of the anti-democratic forces and Ukraine will never come down from the platform of the democracy. So, the fulfillment of this idea is needed, primarily, for the society and state, but not to politicians", said the leader of the Secretariat.
He sees three ways of the uniting of the democratic parties from the Our Ukraine – People's Self Defence Bloc – through the merger, joining or self-destruction. Each of this ways is rather real for the fulfillment, because it is based on the possibilities, which gives Constitution and legislation, which regulates the activity of the political parties and uniting of citizens. "Of course, as every scale case, these variants consist of political, judicial and organization risks.
Probably, the personal indicator will also play its role. But it is necessary that the mechanisms of creating united democratic party exist and it have to be launched", V. Baloha stressed.
If you see a spelling error on our site, select it and press Ctrl+Enter