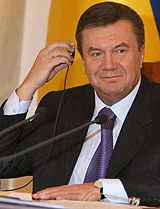 Prime Minister of Ukraine Victor Yanukovych thinks that the clarification of the relations among the politicians delays the development of the country.
According to an UNIAN correspondent, V. Yanukovych expressed such opinion at the session of the Cabinet of Ministers today.
"The main tasks now are the adoption of the Budget, entrance to WTO, faster development of judicial and land reform, overcoming the inflation and smoothing of economic disproportions", said V. Yanukovych.
The head of the government thinks that social and economic problems in the country "accumulated more recently because they caused primarily by impossibility to work in conditions, in which Ukraine has been living the last half a year".
V. Yanukovych thinks that it is necessary to recognize and take into account the mistakes, made "by the political system of the state as a whole".
"However somebody is impressed today by their political success, somebody won a victory over somebody, but these victories only throw back the country in development and the life of people becomes worse. Politicians-winners, who strive for the destabilization of the situation in the country, have to understand this", said he.
The Prime Minister of Ukraine considers populism and unreasonable decisions, which are demonstrated in the conditions of political competitiveness "by the formula – from election – to election", to be inadmissible. According to his opinion, it leads for the worsening of the life of people and postponing reforms "for indefinite future".
According to the words of V. Yanukovych, as a result of this situation, the underdevelopment of the national market, sectoral disproportions, biased system of social protection, excessive tax pressure on manufacturer and consumer, high level of dependence from global conjuncture and some isolation of Ukraine from globalization processes is observed in Ukraine.
"We know it well but we deal with our interior problems, clarification the relations and the world goes ahead at this time. And nobody will wait for anything, until we settle the situation", V. Yanukovych stressed.