Kostenko gave "pumpkin" to Baloha
Kostenko gave "pumpkin" to leades of Secretariat of President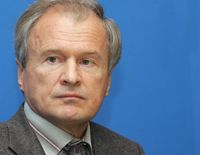 Leader of Ukrainian People Party, which enters to the Our Ukraine – People's Self Defence Bloc, Yuri Kostenko is sure that judicial grounds for creating united national-democratic party will appear only after creating the democratic coalition and introducing the amendments to the law on political parties.
According to the press service of the UPP, Y. Kostenko said this during the air at "1+1" television channel.
He said that the UPP has already elaborated and put into consideration the draft of the law on amendments to the law on political parties of the political council of the Our Ukraine – People's Self Defence Bloc and its was also sent to the Justice Ministry and also to the Secretariat of the President. According to this document, the uniting is forecasted not by the way of dismissing or eliminating the parties, but through uniting way, said the leader of the UPP. "Firstly, it is necessary to approve the law on political parties in the part of the possibility of uniting it, and then , on the basis of the elaborated program of the right party, and also the Statute, which would provide the democracy of  party's leaders  electing by the way of secret ballot, to speak about the terms of uniting and creating the single right political force", underlined Y. Kostenko.
At the same time, the UPP's leader  named information, spread in mass media, that Victor Baloha has to head the negotiation process on creating the single united party, as "exaggeration". "The issue of the uniting – is the prerogative of the parties, which will approve the decisions at their conventions, and it is not the prerogative of the Secretariat of the President. Other thing is – that the Our Ukraine People Union may delegate the authorities to V. Baloga on the negotiations, because he is the member of this party", added Y. Kostenko.
As it was reported earlier, during the campaign of the snap parliamentary election 9 parties from the "orange" camp stated about the readiness to united into strong political organization, which will propose to the society new ideology, clear goals and understandable valuable guideline.
If you see a spelling error on our site, select it and press Ctrl+Enter