Yanukovych, Azarov enter VRU
A President's colour was brought into the session hall of the VRU.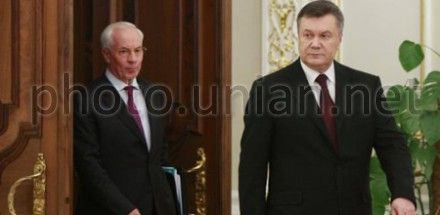 Yanukovych and Azarov have entered the VRU
President of Ukraine Victor Yanukovych and Prime Minister of Ukraine Mykola Azarov have arrived in the session hall of the parliament, where judges of the Constitutional Court should take an oath.
According to an UNIAN correspondent, lawmakers from the Batkivshchyna faction started chanting: "Freedom to Yulia!".
They are holding a poster with an image of ex Prime Minister of Ukraine Yulia Tymoshenko and with an inscription: "No to political repressions! Freedom to Ukraine!".
Lawmakers from the Svoboda All-Ukrainian Union did not stand up from their places, when V. Yanukovych entered the session hall.
If you see a spelling error on our site, select it and press Ctrl+Enter