Kaskiv to leave hospital to vote for Tymoshenko?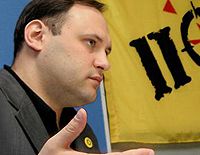 The term, given by the Regulations of the VR for voting for the post of Prime Minister, will finish on Tuesday. BYUT leader Yulia Tymoshenko pretends for this post, the President proposed this candidacy to the parliament on December 6. But BYUT leader can have the lack of votes on Tuesday.
 The presence of three representatives of the OU-PSD in the hall during the voting for the Prime Minister is under question. These parliament members are, Zynovij Shkutyak and Ivan Spodarenko, who are on the sick list from the last week (but at the same time they came to the parliament for voting for Speaker Arseniy Yatsenyuk), and also Pora leader Vladyslav Kaskiv, who are in the hospital bad from Saturday.
According to Segodnya newspaper, Kaskiv underwent a serious operation. It was carried out during three hours. "I will try to come to the voting for the Prime Minister, but I do not know when I will be discharged from hospital. Doctors say that it will depend on my level of health", newspaper quotes Kaskiv.
If you see a spelling error on our site, select it and press Ctrl+Enter