Japanese scientists bred fearless mouse (photo)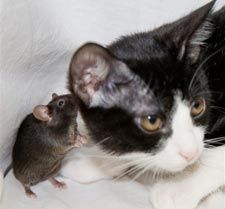 Japanese scientists bred mice, which are not afraid of cats. It appeared that mice are afraid of cats genetically.
The researches of Tokyo University succeeded in turning off the gene in mouse's code, which associates the cat's scent with danger. Bred rodents treat cats kindly, but of course without special enthusiasm, because of the different sizes of animals. But is not a problem for such mouse to come and to smell the eternal enemy.
In such a way the scientists succeeded in proving that it is the scent that makes the mouse become panic-stricken in the case of approaching of the cat.
ICTV
If you see a spelling error on our site, select it and press Ctrl+Enter